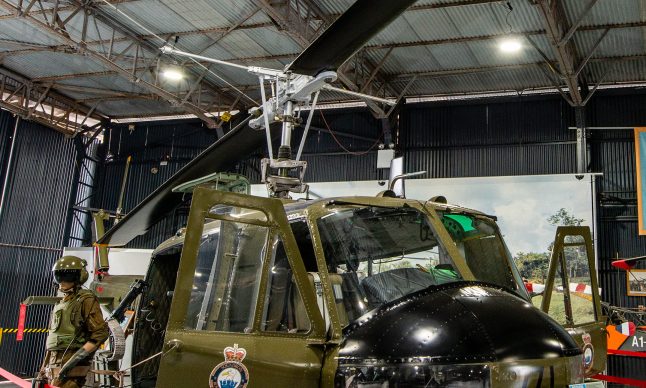 RAAF Base Amberley Pass Office, Southern Amberley Road, Amberley QLD, Australia

Via request form: Tuesday & Thursday, 9.00 am to 3.00 pm

1800 623 306
RAAF Base Amberley Aviation Heritage Centre
The RAAF Amberley Aviation Heritage Centre is a must-see attraction for people interested in military aviation history.
Opened in June 2011, the Heritage Centre has a range of displays, including a World War II Boston Bomber, courtesy of the Papua New Guinea Government, a Vietnam-era Canberra bomber, Caribou Airlifter, Porter, Sabre and Mirage fighter jets, F-111, Sioux and Iroquois helicopters, and even an immaculate WWII Jeep.
The Heritage Centre occupies four Bellman Hangars which were part of the group of 14 identical hangars built in 1942. At that time, they were used mainly to re-assemble aircraft delivered via convoy in crates from the USA, plus to salvage aircraft recovered from accidents.
Eagle Farm and Archerfield also performed some assembly work; however, most went to Amberley and all aircraft had their final fit out and workup for combat at Amberley.
The importance to the war effort was enormous, one estimate was that US and Australian personnel re-assembled about 5,388 aircraft in nearly 4 years. Some of the exhibits fill in details from this era.
The collection continues to grow as more aircraft and artefacts are restored, loaned or donated for display.
Public Open Days are on the third Sunday of each month, January – November, except public holidays. Tickets are free, however you must register to attend. Tickets are released approximately four weeks prior to each open day event with registrations closing 4.30pm on the Monday the week prior.
To visit on a Tuesday or Thursday, you can fill in the visit request form.
Visit the RAAF Amberley Aviation Heritage Centre website for further details; or browse through more than 90 other BLH Places to Visit.
Level 8, MacArthur Chambers, 201 Edward Street, Brisbane City
Tue, Thu & Sun 10.00 am – 3.00 pm.