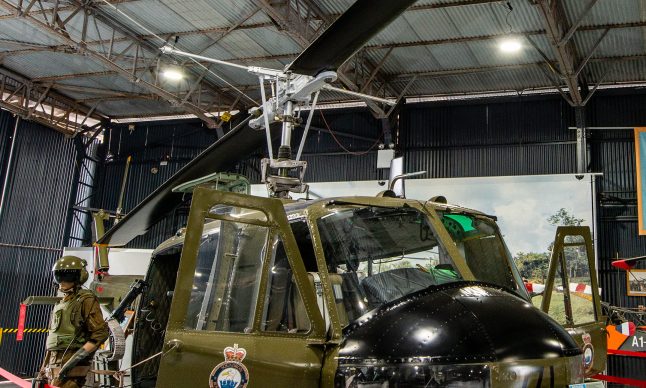 RAAF Base Amberley Pass Office, Southern Amberley Road, Amberley QLD, Australia

Via request form: Tuesday & Thursday, 9.00 am to 3.00 pm

1800 623 306
RAAF Base Amberley Aviation Heritage Centre
The RAAF Amberley Aviation Heritage Centre is a must-see attraction for those visiting south-east Queensland, especially if interested in military aviation history.
Opened in June 2011, the Heritage Centre has a range of displays, including a World War II Boston Bomber, courtesy of the Papua New Guinea Government, a Vietnam-era Canberra bomber, Caribou Airlifter, Porter, Sabre and Mirage fighter jets, F-111, Sioux and Iroquois helicopters, and even an immaculate WWII Jeep.
************************
We hold our public open days on the third Sunday of each month, January – November, except public holidays.
Our Sunday Public Open Days are now registered events and you must book tickets online. We release tickets approximately four weeks prior to each open day event with registrations closing 4.30pm on the Monday the week prior.
Tickets are free, however you are required to provide all the details requested to confirm your booking.
To visit on a Tuesday or Thursday, you can fill in our visit request form.
North Street, North Ipswich
Daily 9.30 am to 4.00 pm.