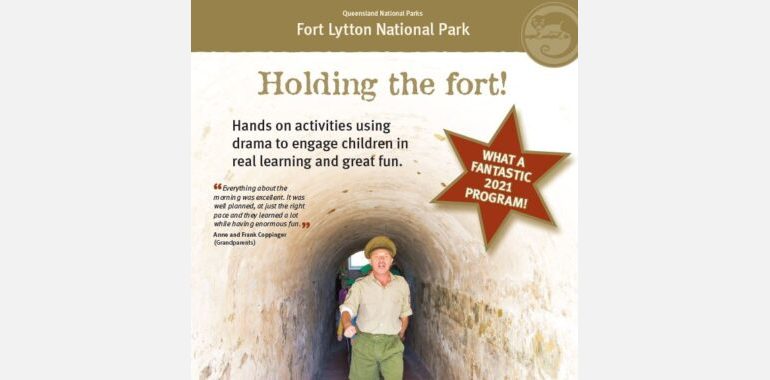 Fort Lytton National Park - 160 South Street, Lytton

29th June 2021 - 08th July 2021

10:00 am - 12:30 pm

07 3393 4647

$10 per child (no charge for supervising adults)
Holding the Fort!
School holiday fun at Fort Lytton National Park.
Holding the Fort! is a go-back-in-time program for school age children.
It is a dramatized experience set in 1944, when Fort Lytton was in full operation (although past the immediate threat of attack). The children are framed as new recruits on their first day. In the story the General is arriving at 12 noon for an inspection and it's a marathon race to get ready in just two hours. Hats and flags have to be made, semaphore has to be learned; and the drill on the twin-six pounder has to be practised. The General is played by one of our Fort Lytton Historical Association guides, and of course he give the fort a pass and praises the competence of the new recruits.
Available dates: June 29 (Tues) and 30 (Wed); July 1, 6, 7 & 8
BOOKINGS ESSENTIAL. Phone (07) 3393 4647