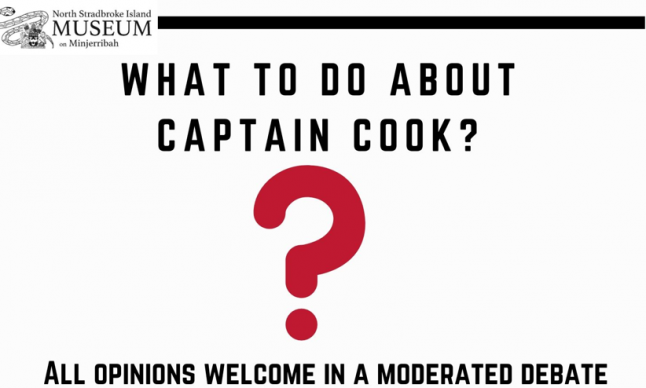 North Stradbroke Island Museum, 15-17 Welsby Street, Dunwich

14th March 2020 - 14th March 2020

1:30 pm - 3:00 pm

07 3409 9699

free
What to do About Captain Cook?
Public debate at the North Stradbroke Island Museum on Minjerribah (NSIMM)
The Australian Government has allocated $48.7 million to commemorate the 150th anniversary of Cook's first voyage. It includes a 14-month trip by the replica of the
Endeavour
. This will pass the east coast of Minjerribah/North Stradbroke Island at the end of the second week of May 2020.
On 22 August 1770, Cook claimed possession of the whole Eastern Coast of New Holland in the name of King George III, naming it New South Wales.
The NSIMM has committed to 'walking together' on the basis of three phases of Island history; over 25,000 years of First Nations occupancy, colonial occupation and nearly 200 years of economic and social sharing.
Critically there should be debate about what stories and whose history should be told.
Come and help decide.